The world of continuous concrete edging means a virtually endless selection of choices when it comes to colour, shape and design choices.
We can customise your installation to include any of the colours on the chart opposite. This option allows you to match your kerbing into the rest of your surrounding design aspects.
Each Kiwi Kerb profile style has a wide 7" base, which ensures that the concrete kerbing is both stable and strong.

Kerb Edges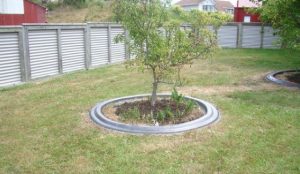 This particular edging is very popular and of course is an ideal compliment to any grassed surface. The main benefit of this style of kerb is having a large inside edge. This prevents garden beds and their contents sprawling out onto the grassed area over time. Also having a very defined visual separation between grassed area and garden beds provides a much more engaging look and feel to any garden.